Mechanical seal HM102 Series
HM102 mechanical seal is a built-in flow, single face, multi spring unbalanced structure, in line with ISO-3069, JB1472-75 standard. Used in various centrifugal pumps, chemical pumps, piping and pipeline booster pump, sewage pump, multistage feed pump.
This series of mechanical seal rings points ○ nitrile rubber, Viton two kinds, please pay attention to the user in the selection.
If you are using corrosive media, you should change ○ ring PTFE V-ring. Users must pay attention when ordering.
This series of products to enhance the three pumps of the program, the user would like to recommend preference to use.
Scope:
◇ sealed: Water, oil, weak acid, alkali and other general corrosive media
◇ sealing pressure: ≤ 1.0 MPa
◇ seal chamber temperature:
NBR: -20 ~ 180 ℃
Fluorine rubber: -20 ~ 180 ℃
PTFE V-ring: -80 ~ 250 ℃
◇ Speed​​: Shaft ≤ φ45: ≤ 3000 r / min
Shaft> φ45: ≤ 1450 rev / min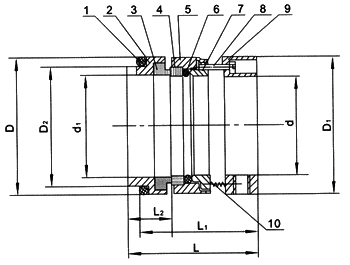 1, the stationary ring ○ ring 2, Block 3 stationary ring, stationary ring 4 ring 5, 6, Block ring, ring ring ○
7, the driving seat 8, connecting screw 9, spring seat 10, the spring
Model
d
d1
D
D1
D2
L
L1
L2
102-25
25
26.5
40
40
34
45
38
19
102-28
28
29.5
43
43
37
45
38
19
102-30
30
31.5
45
45
39
45
38
19
102-35
35
36.5
50
50
44
50
43
20
102-40
40
41.5
58
56
52
55
48
20
102-45
45
46.5
63
62
56
57
50
20
102-50
50
51.5
70
69
62
60
53
22
102-55
55
56.5
75
74
67
60
53
22
102-60
60
61.5
80
79
72
60
53
22
102-65
65
66.5
85
84
77
62
57
23
102-70
70
71.5
92
91
83
62
57
23
102-75
75
76.5
97
96
88
65
63
25
102-80
80
81.5
105
104
95
65
63
25
102-85
85
86.5
110
109
100
65
63