Mechanical seal HM112 Series
Hao Star Mechanical seal | HM112 Series Mechanical Seals | Mechanical seals | grinding pump mechanical seal | seal machine | colloid pump mechanical seals | pump mechanical seal | Kettle mechanical seal
The series 1001 series mechanical seal is improved, changed the original with pins to pass the recess to pass, the use of more reliable, easier to install, arbitrary rotation.
This series of mechanical seals used in pressure ≤ 1.5MPa, temperature -20 ~ 200 ℃, end line speed ≤ 20M/sec sewage, oil and general corrosive media.
This series of stationary ring graphite ring, rigid ring, silicon carbide ring. Sichuan has nitrile rubber ○ type rubber, fluorine rubber. Users can use the pump attrition using different media and different type ○ River.
This series of mechanical seal installation and use conditions see JB4127-85 standard.
Note: If you use corrosive amputation, you can change ○ type of PTFE V-Chuan Chuan Chuan installing V-shaped, in order to make closely, you should use about 90 ℃ hot water soak a few minutes, while warm when pressed with a finger in groups and immediately installed as pressing a predetermined position.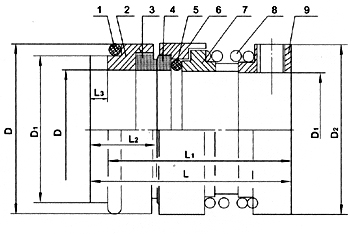 1, the stationary ring ○ ring 2, Block 3 stationary ring, stationary ring 4 ring 5, ring ring ○
6, Block 7 ring, thrust ring 8, the spring 9, the spring seat
| | | | | | | | | | |
| --- | --- | --- | --- | --- | --- | --- | --- | --- | --- |
| 型号 | D | D1 | D2 | d1 | d | L | L1 | L2 | L3 |
| 112-25 | 40 | 34 | 40 | 25 | 26.5 | 57 | 50 | 19 | 7 |
| 112-30 | 45 | 39 | 45 | 30 | 31.5 | 62 | 55 | 19 | 7 |
| 112-35 | 50 | 44 | 50 | 35 | 36.5 | 62 | 55 | 20 | 7 |
| 112-40 | 58 | 51 | 58 | 40 | 41.5 | 72 | 65 | 20 | 7 |
| 112-45 | 63 | 56 | 63 | 45 | 46.5 | 72 | 65 | 20 | 7 |
| 112-50 | 70 | 62 | 70 | 50 | 51.5 | 78 | 70 | 21 | 7 |
| 112-55 | 75 | 67 | 75 | 55 | 56.5 | 78 | 70 | 22 | 7 |
| 112-60 | 80 | 72 | 80 | 60 | 61.5 | 83 | 75 | 22 | 7 |
| 112-65 | 85 | 77 | 85 | 65 | 66.5 | 83 | 75 | 22 | 7 |
| 112-70 | 92 | 83 | 92 | 70 | 71.5 | 88 | 80 | 25 | 7 |
| 112-75 | 97 | 88 | 97 | 75 | 76.5 | 88 | 80 | 25 | 7 |
| 112-80 | 105 | 95 | 105 | 80 | 81.5 | 93 | 85 | 25 | 7 |